Welcome to DNatureofDTrain's Bio Page .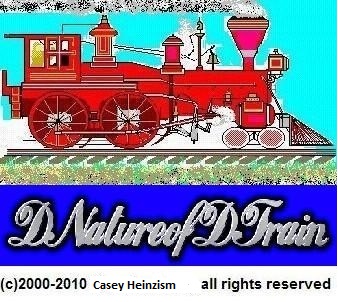 Do you want to Advertise to sponsor DNatureofDTrain's Community Projects? If so place Click Here to Place your Advertisement Above Center!
Our Privacy Policy in agreement to Google Adsense.
DNatureofDTrain's Home station
The Bio of The DNatureofDTrain
---
.
DNatureofDTrain's Biography
DNatureofDTrain."chooses to remain anonymous, and does not like to disclose legal name, so goes by the pen name "Casey Heinzism"

.
Experience
Casey Heinzism serves as the administrator and founder of multiple communities. The Heinzist Tribe, Peace Keeping Rails, and DNatureofDTrain communities, as well as the DNatureofDTrain and Heinzism stores. Casey Heinzism also has a lifetime of experience with creative writing, storytelling, and managing, Heinzism since 1996, DNatureofDTrain since 1993, and Peace Keeping Rails 1992. Casey Heinzism is known for often offering wit, wisdom, and humor..after experiencing first hand how bizarre, and creative stories of unusual experiences can benefit and enrich the lives or others. Casey Heinzism also enjoy doing small street performances, web performance, and impromptu flash mob performances of singing and dancing, or other creative, and fun demonstrations.Casey Heinzism often is in the top ten on the local and regional reverbnation.com charts as DNatureofDTrain.
Education
Casey Heinzism has been recognized and taught by many Elders of many traditions to teach and share. Current Teachers being Pat Butti.. in Shamanic practices. Casey has studied under numerous teachers and sources, and through personal life long experiences. Casey does not seek followers, just seeks listeners to share to.
Casey also graduated from Milton high School in Milton Wisconsin, and was a member of Mixed chorus, and Honors choir.
Casey Heinzism
"This site offers priceless, accurate, and fact and fiction information on DNatureofDTrain's work and life experiences, also addressing the creativity, wit and wisdom, seemly impossible experiences, and finding the mystery, and humor..in living life."
|Join Swagbucks! You Can Get Free Gift Cards For Shopping, Searching and Discovering What's Online at Swagbucks.com